Horizon Intern Maan Barua Receives OIL India Young Achievers Award
The Assam Tribune announced that Maan Barau, a Horizon Intern who has launched the Butterfly Conservation Initiative with the assistance of Horizon International was one of five recipients to win Oil India Young Achievers Award on February 4, 2007.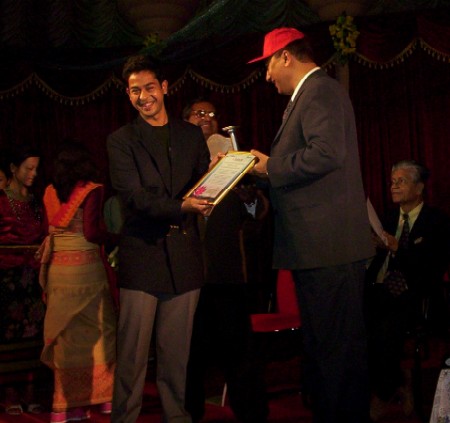 Maan Barau receives award from Sri Pradyut Bordoloi, Honorable Minister of Power, Assam, India.
Maan Singh Kharangi Baruah has an international repute for his activities related to bird watching.
Other youth recognized were Rajib Basumatary for playing for the junior Indian archery team, Jayanta Kumar Das, a youth leader and social activist, Abu Nechim Ahmed, playing for the Indian cricket team under 19 and Julie Baruah, the Cottonian who had showed great courage in the face of adversity when she lost both hands in an accident, won the award.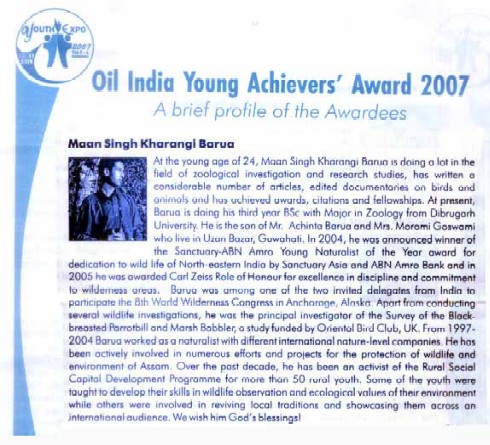 Maan Barua's Award
The award included a cash prize of Rs 25,000, a trophy and a citation.
Power and industry minister Pradyut Bordoloi presented the awards to the achievers.

The awards were given in celebration of youth power by the Don Bosco Institute (DBI), Kharghuli, in association with Oil India Ltd.

Speaking on the occasion, Prof Anil Goswami, former principal of Cotton College, said that educational institutions had a duty to give exposure and provide facilities to upgrade innovative ideas of students.

Veteran Gandhian Natwar Thakkar, said that the degree of concern of a person in society decides the degree of civilization, and added that the youth of Assam are bubbling with energy to take the lead.
The Butterfly Conservation Initiative also received recognition by "Protected Area Update" one of the leading Indian newsletters on natural history and conservation issues.
"A Butterfly Conservation Initiative has been launched in Assam by a group of young and enthusiastic naturalists. Supported by Horizon International, a USA based NGO, the group has planned a number of activities to ensure their objective of butterfly conservation. This includes holding workshops in colleges and regularly monitoring of butterflies in protected areas like the Kaziranga, Orang and Nameri National Parks."
The project includes statewide fieldwork to gather baseline data and identify threats to butterfly populations, research and documentation of different species, their habitats and taxonomy and creation of a photo database to help people identify and distinguish one specimen from another. Institutions like Bajali College, Pathshala and Margherita College have already created butterfly study groups as part of the endeavour.