Horizon International and Butterfly Conservation in Assam, India, Successfully Launch Initiative
The primary objective of the programme has been to initiate people into the fantastic world of butterflies and to encourage them to get involved in butterfly study and conservation.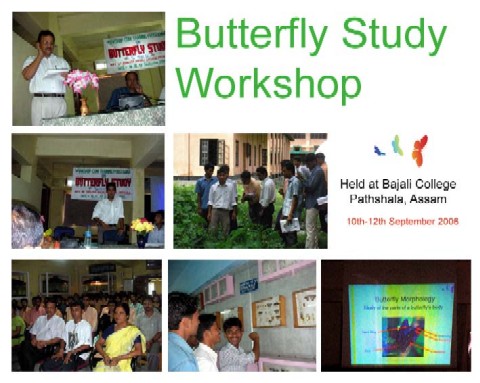 The second butterfly study workshop was held at Bajali College, Pathshala from 10-12 September 2006
Although the state of Assam has only 2.64% of India's landmass, it has nearly 50% of the butterflies found in the entire country. However, people are largely unaware of their presence and knowledge regarding butterflies in the public domain is next to nothing.
The White Dragontail is an amazing swallowtail that inhabits the rainforests of Assam. Participants have been thrilled to see this beautiful butterfly on a few occasions during our field trips
Keeping this in mind, a training programme on butterfly study and strategies for their conservation has been designed as part of our effort to create a group that conducts research and field studies on butterflies and to gradually build a network that furthers long-term butterfly conservation at national and international levels.
The programme has been quite successful and over the past six months we have conducted camps in different parts of Assam, reaching out to over 70 undergraduates and high-school students.
This has been achieved by working with Departments of Zoology in different colleges where life-sciences are taught, as well as networking with environmental NGOs working in the field of wildlife conservation.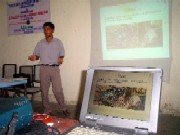 Jatin Tamuly speaking on the diversity of butterflies and their habitats in Assam. Our talks have ranged from topics such as butterfly ecology to conservation strategies for butterflies in northeastern India
From Biology to Conservation …
The primary objective of the programme has been to initiate people into the fantastic world of butterflies and to encourage them to get involved in butterfly study and conservation. Each programme has begun with an introduction to the butterfly habitats and diversity of the region, and participants have been introduced to the range of butterfly species that the region supports.
Aspects of butterfly biology and ecology have also been delved into, with the central idea that butterflies are complex organisms whose survival depends upon a range of factors from the availability of suitable host-plants to specific microclimates.
We feel that a coherent understanding of the basic science involved is vital in conservation and putting across such ideas, especially to those from a non life-science background, has been both challenging as well as rewarding.
Field Visits …
Our programmes, held in different parts of the state have enabled participants to experience the amazing butterflies of their region first-hand.

Seeing these winged jewels has perhaps been a major reason for the success of our programmes and has been the driving force behind continuation in butterfly study after the conclusion of the training programmes.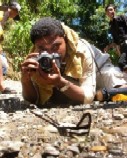 Participant photographing a Dragontail
The field visits have also been fun, especially since butterflies are attracted to human sweat and will sit on peoples' arms (and even face!), allowing them to get very close and observe them at great length and detail!
Developing Skills …
Field skills are of great importance for any individual seeking to work on butterflies.

Our team has included various people who have been studying the taxonomy and ecology of the butterflies of the region and they have been working intently with participants in order to help them develop their skills in butterfly study and identification.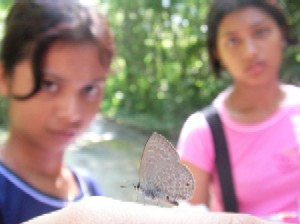 Butterflies are frequently attracted to peoples' sweat and this makes them all the more fascinating.
Our objective has been to train youth to identify butterflies in the field so that they can conduct their own studies and contribute to the knowledge of butterflies of the region.
We have also introduced them to simple research methods so that more extensive monitoring of butterfly habitats and species may be attained in the years to come.
Developing the skill of youth is vital as it helps them realize their potential and makes their contribution to conservation much more effective.
A few Outcomes …
Within the short period since the commencement of our activities, several important steps have been taken. Butterfly study groups have been formed in the Bajali College, Pathshala and Department of Zoology, Margherita College, and they have begun independent work to survey butterflies in their respective regions.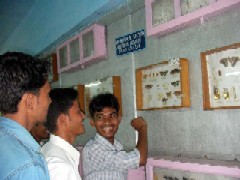 Bipul Das, resource person, examining old specimens of butterflies with participants.
This work expands from documenting the butterfly fauna of biotopes as diverse as rainforests to countryside habitats. Several people have reared butterflies and studied the life-cycles of a few species. Another study that has been initiated is to document the Lycaenid butterflies of the region and to develop a key for their field identification.
Most importantly, a large part of our network involves youth and people from rural areas, who are greater stakeholders in conservation.
Finally …
Our on-going efforts have helped us to initiate individuals into more systematic butterfly study and consequently form a framework for a much-needed butterfly conservation network.
The annual meet of Butterfly India, the only major nation-wide butterfly study group, was also held in northeastern India and the importance of networking for the conservation of butterflies was extensively discussed.
A platform for a butterfly conservation working group for this part of the country –Butterfly Northeast – has been floated, largely with the hope that long-term study and solutions for the conservation of butterflies of the region becomes more concrete.
In the Near Future…
With the support of Horizon International and various other partners, we soon hope to start a debate regarding the conservation of butterflies in the public sphere.

We also wish to do more serious documentation of butterflies of the region and involve youth in such activity to start a Website on butterflies and our conservation initiatives.
Author and Photographer:
Maan Barua
Wild Grass, Kaziranga, Assam – 785109,
India
Acknowledgements:
Rajib Tariang, SN Kalita, Bipul Das, Jatin Tamuly, Polasz Bora, Janine Selendy, Bittu Sahgal
Advisor:

James S. Miller, Ph.D., American Museum of Natural History, Department of Entomology

Story